Dentures by Reliable Gold Coast Dentists
Privacy Policy for Affordable Dentists Qld
Welcome to www.affordabledentistsqld.com.au (the "Site").We understand that privacy online is important to users of our Site, especially when conducting business.  This statement governs our privacy policies with respect to those users of the Site ("Visitors") who visit Affordable Dentists for Gold Coast Brisbane and Ipswich Qld.
"Personally Identifiable Information"
refers to any information that identifies or can be used to identify, contact, or locate the person to whom such information pertains, including, but not limited to, name, address, phone number, fax number, email address, financial profiles, social security number, and credit card information.  Personally Identifiable Information does not include information that is collected anonymously (that is, without identification of the individual user) or demographic information not connected to an identified individual.
What Personally Identifiable Information is collected?
We may collect basic user profile information from all of our Visitors. We collect the following additional information from our Authorized Customers: the names, addresses, phone numbers and email addresses of Authorized Customers, the nature and size of the business, and the nature and size of the advertising inventory that the Authorized Customer intends to purchase or sell.
What organizations are collecting the information?
In addition to our direct collection of information, our third party service vendors (such as credit card companies) who may provide such services as credit may collect this information from our Visitors and Authorized Customers. We do not control how these third parties use such information, but we do ask them to disclose how they use personal information provided to them from Visitors and Authorized Customers.
How does the Site use Personally Identifiable Information?
We use Personally Identifiable Information to customize the Site, to make appropriate service offerings, and to fulfill requests on the Site. We may email Visitors and Authorized Customers about research or purchase and selling opportunities on the Site or information related to the subject matter of the Site. We may also use Personally Identifiable Information to contact Visitors and Authorized Customers in response to specific inquiries, or to provide requested information.
With whom may the information may be shared?
Personally Identifiable Information about Authorized Customers may be shared with other Authorized Customers who wish to evaluate potential transactions with other Authorized Customers. We may share aggregated information about our Visitors, including the demographics of our Visitors and Authorized Customers, with our affiliated agencies and third party vendors. We also offer the opportunity to "opt out" of receiving information or being contacted by us or by any agency acting on our behalf.
How is Personally Identifiable Information stored?
Personally Identifiable Information collected by Affordable Dentists for Gold Coast Brisbane and Ipswich Qld is securely stored and is not accessible to third parties or employees of Affordable Dentists for Gold Coast Brisbane and Ipswich Qld except for use as indicated above.
What choices are available to Visitors regarding collection, use and distribution of the information?
Visitors and Authorized Customers may opt out of receiving unsolicited information from or being contacted by us and/or our vendors and affiliated agencies by responding to emails as instructed, or by contacting us at 16/13 Bedford Road, Pimpama, Qld 4209.
Are Cookies Used on the Site?
Cookies are used for a variety of reasons. We use Cookies to obtain information about the preferences of our Visitors and the services they select. We also use Cookies for security purposes to protect our Authorized Customers. For example, if an Authorized Customer is logged on and the site is unused for more than 10 minutes, we will automatically log the Authorized Customer off.
How does Affordable Dentists for Gold Coast Brisbane and Ipswich Qld use login information?
Affordable Dentists for Gold Coast Brisbane and Ipswich Qld uses login information, including, but not limited to, IP addresses, ISPs, and browser types, to analyze trends, administer the Site, track a user's movement and use, and gather broad demographic information.
What partners or service providers have access to Personally Identifiable Information from Visitors and/or Authorized Customers on the Site?
Affordable Dentists for Gold Coast Brisbane and Ipswich Qld has entered into and will continue to enter into partnerships and other affiliations with a number of vendors. Such vendors may have access to certain Personally Identifiable Information on a need to know basis for evaluating Authorized Customers for service eligibility. Our privacy policy does not cover their collection or use of this information. Disclosure of Personally Identifiable Information to comply with the law – We will disclose Personally Identifiable Information in order to comply with a court order or subpoena or a request from a law enforcement agency to release information. We will also disclose Personally Identifiable Information when reasonably necessary to protect the safety of our Visitors and Authorized Customers.
How does the Site keep Personally Identifiable Information secure?
All of our employees are familiar with our security policy and practices. The Personally Identifiable Information of our Visitors and Authorized Customers is only accessible to a limited number of qualified employees who are given a password in order to gain access to the information. We audit our security systems and processes on a regular basis. Sensitive information, such as credit card numbers is protected by encryption protocols, in place to protect information sent over the Internet. While we take commercially reasonable measures to maintain a secure site, electronic communications and databases are subject to errors, tampering and break-ins, and we cannot guarantee or warrant that such events will not take place and we will not be liable to Visitors or Authorized Customers for any such occurrences.
How can Visitors correct any inaccuracies in Personally Identifiable Information?
Visitors and Authorized Customers may contact us to update Personally Identifiable Information about them or to correct any inaccuracies by emailing us at [email protected]
Can a Visitor delete or deactivate Personally Identifiable Information collected by the Site?
We provide Visitors and Authorized Customers with a mechanism to delete/deactivate Personally Identifiable Information from the Site's database by contacting us. However, because of backups and records of deletions, it may be impossible to delete a Visitor's entry without retaining some residual information. An individual who requests to have Personally Identifiable Information deactivated will have this information functionally deleted, and we will not sell, transfer, or use Personally Identifiable Information relating to that individual in any way moving forward.
What happens if the Privacy Policy Changes?
We will let our Visitors and Authorized Customers know about changes to our privacy policy by posting such changes on the Site. However, if we are changing our privacy policy in a manner that might cause disclosure of Personally Identifiable Information that a Visitor or Authorized Customer has previously requested not be disclosed, we will contact such Visitor or Authorized Customer to allow such Visitor or Authorized Customer to prevent such disclosure.
Links:
www.affordabledentistsqld.com.au contains links to other web sites. Please note that when you click on one of these links, you are moving to another web site. We encourage you to read the privacy statements of these linked sites as their privacy policies may differ from ours.
Thank you for visiting our Affordable Dentists for Gold Coast Brisbane and Ipswich Qld website!
Affordable Dentists Gold Coast Qld
If you are looking for top quality affordable dental services on the Gold Coast Qld, you are in the right place – Here we list some of the best dentists on the Gold Coast by location. Simply click on the Surburb you live in  to see affordable dentists near you.
Affordable Dentists Gold Coast – Good dental health and oral hygiene can help prevent gum diseases and bad breath. Multiple studies have also shown that people who observe good dental care have lowered risk of suffering life-threatening health problems such as diabetes, stroke, heart attack, and preterm labour.
Good dental and oral hygiene also help to boost your self-esteem and confidence. Among the many reputable Gold Coast dentists listed on our website, we offer a wide array of dental service that aim to improve the dental health of all Gold Coasters. Our goal is to help you have a bright healthy smile and the confidence that goes with it. In the following sections, we are going to discuss the dental services that we offer on our Affordable Dentists Qld website.
1. Cosmetic Dentistry on the Gold Coast Qld
Cosmetic dentistry involves procedures that focus on improving the general appearance of your teeth, mouth, and smile. This cosmetic procedure mainly focuses on improving the shape, size, position, alignment, colour and overall appearance of your smile. If your teeth are discoloured, stained, worn-out, misshapen, have gaps or are broken and you want to fix them, then cosmetic dentistry will fix the problem and give you the smile that you have always wanted. Our dentists offer a wide array of Gold Coast cosmetic dentistry procedures including dental veneers, teeth whitening, dental crowns, inlays and onlays, dental implants, bonding, amongst many others. Our dental experts use state of the art technology to transform the smile and overall appearance of your teeth within the shortest time possible. Our cosmetic dentistry procedures are also pain-free.
2. Orthodontist Dentist Services on the Gold Coast Qld
Orthodontist services are a specialty within dentistry that mainly deal with teeth abnormalities, including misaligned teeth, crowded teeth, underbite and overbite. If you have crooked teeth, space between teeth, temporomandibular disorder, under-bite or crossbite and you need to fix the problem then our experienced orthodontist can help you. Our Gold Coast dentists also offer surgical orthodontics, palatal expanders to aid in proper jaw growth, early childhood interception treatment, and finger and thumb appliance to assist children to break bad habits.
We understand that each patient has his own unique needs; that is why we usually create a personalized treatment plan for each patient so as to give the best orthodontic results. We also use cutting edge technology, including accelerated treatment and 3D scanning, to reduce treatment time and enhance accuracy. When you choose a Gold Coast Dentist on this website, we guarantee that the appointment will be shorter, but you will still get the amazing smile that you are looking for.
The moment that you walk into one of our affordable Gold Coast Dentists you will feel relaxed and comfortable. This is because they have invested heavily in the latest equipment and practices to ensure that you feel comfortable with your treatment. Orthodontic treatments that they offer include paediatric and adult treatments, Invisalign braces and orthognathic surgery.
3. Root Canal Dental Services on the Gold Coast Qld
A root canal procedure aims to save a tooth that is severely infected. This procedure helps to remove the infected or inflamed pulp, thoroughly cleans and shapes the root canal then seals the space. After a while, you will be required to return to your dentists' practice to place a crown or other restoration of your choice to restore your tooth to its full function. We normally use anaesthetics and other modern root canal techniques to make the process as pain-free and comfortable as possible. After the procedure, your dentist will monitor the tooth closely to ensure that all signs of infection are gone. Root canal has many benefits, including fostering the natural appearance of the teeth, protecting the teeth from excessive wear and tear and ensuring that you have normal biting force. Our experienced dentists will make the process smooth and pain-free for you.
4. Tooth Extraction Dental Services Gold Coast Qld
We all want to keep our teeth for a lifetime. However, certain issues can arise forcing the dentist to recommend tooth extraction for the good of your overall dental health and wellbeing. Although tooth extraction may seem simple and straightforward, it is actually a complicated procedure. As such, teeth need to be removed by a qualified dentist. In most cases, a tooth is usually extracted due to crowding, disease or trauma. In addition, if a tooth has been damaged beyond repair due to periodontal disease, extensive decay or accident, then the dentist may recommend the tooth be extracted. Our tooth extraction procedure is pain-free and safe. Whether it is a simple extraction or surgical extraction our team of dental professionals will make the process smooth and pain-free. Our Gold Coast dentists will also get you detailed instructions on what you need to do to prevent swelling or infection.
5. Teeth Whitening Services on the Gold Coast Qld
Do you want to improve the overall appearance of your teeth? If so, then teeth whitening will help you achieve that. Teeth whitening is a cosmetic procedure that helps to remove discolouration and stains, thus improving the overall appearance of your teeth. Currently, teeth whitening is the most popular cosmetic procedure. Teeth whitening is not a onetime procedure – it needs to be repeated from time to time to maintain your bright smile. Our dentists take pride in having fully qualified and experienced professionals who conduct the procedure safely to transform each client's smile. Our Gold Coast dentists also use advanced tooth whitening technology to give high quality and long-lasting results.
Dentists know that each individual has different minerals within their teeth; they also know that staining varies. This is why our affordable Gold Coast dentists offer personalized treatment to meet your individual needs. When you book for an appointment, our team will talk to you to determine your needs and then use the most appropriate method to give you the bright smile that you are looking for.
6. Dental Veneer Services Gold Coast Qld
Dental veneers, also known as porcelain veneers, are custom made shells of tooth-coloured materials that cover the front surface of the teeth to improve its overall appearance. Veneers are usually bonded in front of the teeth thus changing their shape, size, length, and colour. Unlike crowns that require forceful carving of the teeth, dental veneer are more appealing and need little preparation. Our affordable dentists have specialized expertise in veneer dentures installation. Our specialist dentists use advanced adhesive to give long lasting and effective results to our patients. If you want your friends to stare at you when you smile, then dental veneers are a great investment and will greatly improve the general appearance of your teeth.
7. Wisdom Teeth Removal, Gold Coast Qld
Wisdom teeth can wreak havoc on your mouth, especially when they squeeze into a spot where there is no space, causing damage to the bones and/or surrounding teeth. This can result in complications like fluid-filled cysts and extreme pain. It can also make it hard for you to clean your teeth properly. That is why dentists widely recommend their removal.
When you book an appointment with the dental expert for your location, our dentists will first examine the teeth by performing an x-ray to see how much space they occupy. If you are experiencing a problem with your wisdom teeth, then your dentist will recommend removal. The method that they choose to extract the teeth will depend on how they are positioned. The wisdom teeth extraction methods used by our Gold Coast dentists are fast and pain-free and they use specialized equipment that enables them to conduct the procedure precisely.
8. Dental fillings by Affordable Gold Coast Dentists
A dental filling is a treatment that helps to restore the function and integrity of part of a missing tooth structure. This treatment is usually performed quickly because it is straightforward and simple. Our affordable Gold Coast dentists will first clean the part of the tooth that is affected, leaving a clean empty space. They then fill that space until it evens out with the surfaces of the rest of the tooth. This will help protect your tooth from further decay. There are different types of filling available including silver amalgam filling, composite filling, gold fillings, and glass ionomer fillings. Our dental specialists will insert the dental feeling of your choice. Dental fillings are important because they help to prevent tooth decay. In addition to that, they also prevent plaque and bacteria build-up which can cause serious infections. They also prevent breaking, chipping and cracking of the tooth.
9. Teeth implants by Affordable Gold Coast Dentists
Also known as dental implants, teeth implants are metal frames that are strategically placed (through a surgical procedure) into the jawbone, just beneath the gums. Once the implant is in position, your dentist can safely mount a tooth replacement. Teeth implants provide the much-needed support for artificial teeth. This enables you to eat and speak without worrying that your teeth will fall out. If you have lost your teeth from an accident and you want to replace them so that you can live a normal life, then teeth implants are the best option for you. Our Gold Coast Dentists will use modern teeth implants that are not only stronger but also allow your teeth to look, feel and function naturally. Our experienced dentists will insert the teeth implants in the safest way possible to bring your smile back and enable you to live a happy life the way you used to.
10. Dental Bridges by Reliable Gold Coast Dentists
As its name suggests, dental bridges are a procedure that help to bridge the gap that has been created by one or more missing teeth. There are basically three types of dental bridges available. They include traditional bridges, Maryland bonded bridges (also called resin-bonded bridges) and cantilever bridges. Our team will analyze the current condition of your teeth to determine which option suits you best. Dental bridges not only help to restore your beautiful smile but also help to enhance the shape of your face, as well as prevent other teeth from drifting out of position. Our experienced team will first examine your teeth, then use modern technology to insert dental bridges to restore your smile.
11. Dental Crowns by Gold Coast Dentists
Dental crowns are teeth shaped caps that are usually placed over the tooth to cover it. Dental crowns help to restore both the strength, size, shape, and appearance of the teeth. This prosthetic restoration procedure helps to restore a damaged tooth to its initial size and shape. Therefore, if your teeth are broken, crooked, or misshapen, then a dental crown will help restore its appearance. Our experienced dentist in your location will install a crown made of very resilient materials to enable you to go about your daily activities such as biting and chewing without worrying. The installation process is also smooth and pain-free; the entire procedure will take less than 3 weeks to complete.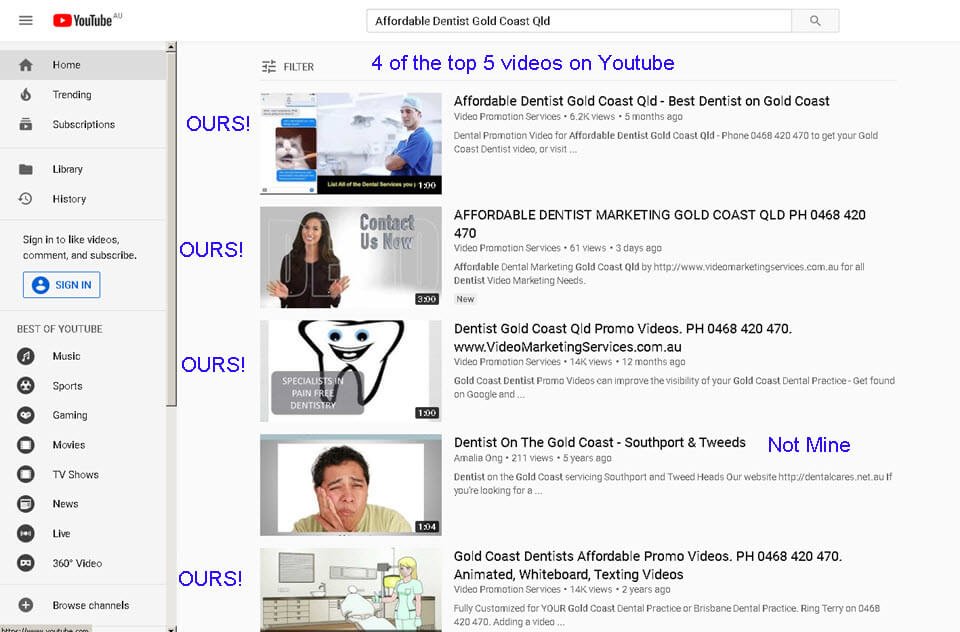 12. Dentures by Reliable Gold Coast Dentists
Dentures are artificial teeth with a plate that are secured within the mouth to replace the lost natural teeth. They can be partial or full, meaning that you can replace just a few missing teeth or all teeth. Dentures not only help to improve your overall smile, they also help to maintain the structure of the mouth. They can be custom designed to meet your individual needs. Our dentures are made of modern resin which is long lasting and looks more like the natural teeth. However, because of the overall nature of dentures, it is recommended that you have them replaced every 5 years. Our experienced team will install high-quality dentures that will improve your smile and overall dental health.
13. Children's dentists on the Gold Coast
Also known as paediatric dentists, children's dentists are dedicated to safeguarding the oral health of children from infancy to teen years. Check out the experienced paediatric dentists close to you who can help your child take good care of their teeth, mouth and gums throughout each stage of their life to ensure that they remain strong and healthy teeth. Unlike adults, children are not so cooperative when being examined. As a result, they need to be handled by someone who understands them, which is exactly what our paediatric dentists specialise in. They create a friendly environment to make your children feel comfortable. Our treatments are pain-free and use specially designed equipment that gives high-quality dental care to children.
14. Invisalign Braces Gold Coast Qld
Invisalign braces are a type of orthodontic treatment that helps to enhance the smile by straitening teeth. It involves wearing a series of custom-made braces to help your teeth get back to their proper position. If you want to improve the appearance of your teeth without wearing ugly looking metal braces, then Invisalign braces are the best option for you. They also allow you to remove aligners to eat and brush your teeth. If you want to straighten your teeth using Invisalign braces, then all that you need to do is select the affordable gold coast dentist for your location and give them a call. Their experienced orthodontist will design custom made Invisalign braces that will fit your mouth comfortably. In fact, you may not even notice that you are wearing braces.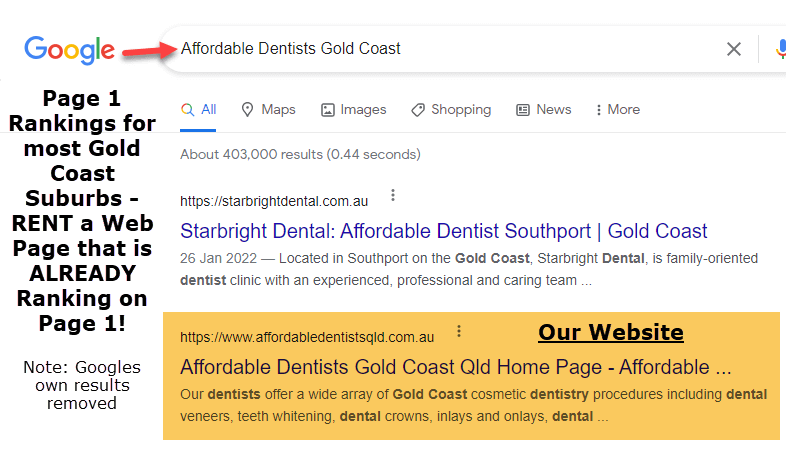 In conclusion, if you are looking for a reputable, experienced affordable Gold Coast dentist for your family, then check the location closest to you and select the right dental care for you, in your location. Most of our affordable Gold Coast dentists offer a wide array of dental services as outlined above. They offer highly experienced, skilled and friendly dental experts who will go out of their way to give you the healthy smile that you deserve. Don't wait – check out the affordable Gold Coast dentist closest to you, and give them a call today to book an appointment!